I am taking part in the 365 photo challenge for 2013, linking in with
The Boy And Me
.
You can join in
here
.
I will add pictures each week.
Day 132
Ben was dressing up his otter teddy with hat, socks and underpants!
Day 133
My little Scooby Doo!


Day 134
Megan making cottage pie for tea.


Day 135
Play foam earrings.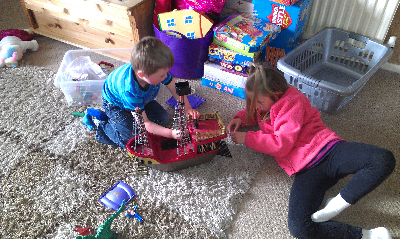 Day 136
Playing TOGRTHER with the pirate ship!


Day 137
Getting ready and decorating the house for Megan's First Holy Communion.
Day 138
My beautiful Megan's First holy Communion.
Chalking in the sun!




Day 126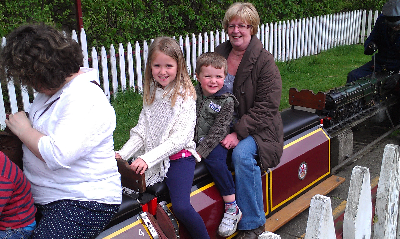 Train fun with Nana!




Day 127
My busy gardeners!
Exhausted in the car, after a bad night.




Day 129
Megan getting a rare stroke with our delinquent bunny, Betsey!




Day 130
Chocolate cereal...It's the little things that make them happy!
A walk to the library... in the rain!
Ben handing out water to the marathon runners!
Creative building! Ben loves building with the bricks and creates great models when he puts his mind to it!
Lovely pink flowers in the sunshine.
Megan and Jack playing on the rope swing TOGETHER and not ARGUING! I had to take a picture of this to show that is does happen...sometimes!






Day 122
Ben was very impressed because we had chocolate pillows for breakfast! It's the little things!
Playing Mario Brothers on the Wii together!
A beautiful display of Camilla flowers and a dandelion chain!




We went out Geocaching and saw this at Sale Water Park. Pretty amazing!
Day 112
This figure of St Paul was carved out of wood and was very impressive!
Day 113
Homemade by Megan and Ben. Chocolate truffles. Delicious!
Day 114
Megan helping Grace down the slide.
Day 115
My beautiful camellia is flowering! Spring is in the air!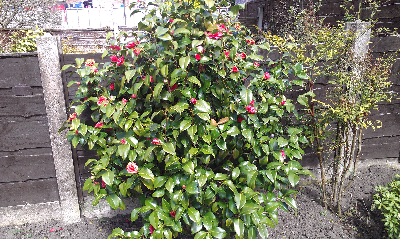 Day 116
A fantastic night out to celebrate my friend Kate's 40th Birthday! We went to a take that tribute night, which turned out to be Robbie Williams tribute night! We had a ball, and as an added bonus we stayed there in the hotel! A whole night with the girls! Bliss, although I do feel very tired and a bit worse for wear today!
Day 117
Our beetroot seeds are shooting! More signs of spring!
Day 104
Megan and I went out for afternoon tea with Auntie Laura, Nana and Auntie Lynne. We had a lovely time, the place we went to was a home and garden shop and we had a lovely time wandering round, looking at all the things. Megan really enjoyed it and was so grown up. Here she is with Auntie Laura, waiting for afternoon tea.
Day 105
While the weather has been dry, Megan and Ben have been playing in the garden after school this week. I was thinking that Megan may have outgrown this climbing frame this year, but she has just found a new way to play on it. Somersaults!
Day 106
Another way to play on the swing! Ben was loving this and screaming with excitement. When she wants to, Megan is sooo good with him, looking after him and playing with him.
They were on the swing for ages like this and they started to go quite high! All good fun!
Day 107
Playing on the rope swing on the way home from school.
Day 108
Tickle time! Everyone was in hysterics here as Daddy was alternating between tickling Megan then Ben. Always good fun but can often end in tears as someone always gets overexcited!
Day 109
Ben enjoyed the zip wire when we met friends in the park for a play. He was even pushing one of his little friends who got stuck!
Day 110
Megan made a den from the fallen branches and a tree stump! She then had a little rest. It's hard work den building you know!
Mr W spent most of the day in the garden, mowing weeding and generally tidying up. Here he is wearing Peter's Jacket, which is a jacket we got from Kenya, which has multiple pockets for gardening bits. In fact we found a pair of gardening gloves in a back pocket!! The jacket is named after our driver Peter, who took us on all the safaris and was full of interesting facts. Needless to say, he wore one of these all the time.
Ben enjoying a lovely fruit salad with pear, kiwi, banana and satsuma. Seriously this boy eats so much fruit!
Day 99
After school Megan and Ben went for hair cuts. As Ben hates it so much and usually screams the whole way through I bribed him with cake! I told him he could pick a cake off the cake counter as a treat, and it worked! He cried a bit, not too much and got to pick a cake. He picked a chocolate donut and Megan chose this huge strawberry pavlova!
Day 100
Megan found this caterpillar in the garden. She wanted to keep it as a pet but I managed to persuade her that it would be much happier living on a leaf outside!
Day 101
Dr Ben was examining poor Jake again! Thankfully Dr Ben claimed he was 'very well' after being checked over and having his medicine!
Day 102
Ben had his castle and dinosaurs out today and was having a lovely time with the knights defending the castle from the dinosaurs! I think the castle was saved!
Day 103
Megan and Ben got a belated Easter lolly from Nana Enid and they both very kindly shared with Grace.
Megan always looks out for Grace and mothers her, but recently Ben has been very attentive and hands on, ready to help her out when needed. Long may it last!
Easter Sunday. We had some family round for Easter lunch and a celebration for Megan's 8th birthday. Nana gave Megan his gorgeous turquoise dress, a Minnie Mouse bag and sparkly sunglasses!
Day 91
Happy 8th Birthday Megan! Megan had asked for Lego Friends for her birthday so we got her this big set, which she has
loved
putting together with Daddy and playing with this week.
Day 92
Ben and Daddy playing football! Ben is getting really good at this and loves having a match with anyone who wants a game, or even by himself!
Day 93
The sun came out, but it was still so cold! Megan was looking after Grace in the garden and pushing her round in the Cozy Coupe car, which she loved.
Day 94
We went to Wales for the day to visit our lovely friends who we haven't seen for six months! The children had a brilliant time and had lots of fun playing mini golf, panning for gold and lots more lovely things.
Here are Megan and and Ben with Amy and Bethan.
Day 95
Megan was modelling a beautiful dress that her Godmother, Lynda had got her as part of her birthday present. Megan loved it and amazingly she had already tried it in the shop and really wanted it!
Day 96
We went to Auntie Lynne's this afternoon and good old snakes and ladders came out again, although this somehow turned into the longest game of snakes and ladders ever played and no one actually won!
Day 84
Ben has been having a good go at writing his name recently and I think it's pretty good!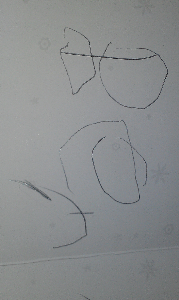 Day 85
Megan entered the decorate an egg competition at school with this fabulous creation of a sheep in a field with chicks and bunnies! Very creative!
Day 86
Third place from the whole of KS2! Well done Megs!
Day 87
Ben had his Easter sing along at playgroup. He was brilliant, especially singing 'Hot Cross Buns', his favourite song at the moment! The children sang lots of songs related to Easter and there were lots of very proud parents. Well done Ben!
Day 88
Ben's Sonic slipper has been MIA for a few days, so he decided to wear one slipper and one bed sock!
Thankfully it turned up later this week in one of the toy boxes!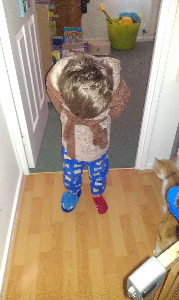 Day 89
Megan was very lucky to go to Auntie Laura's beauty salon today as a birthday treat, where she had her nails painted, all different colours and glittery and had a bit of make up put on too. She looked gorgeous and very grown up.
Day 76
Ben went to his friends birthday party, where he had a ball! At one point the children were dancing to Gangnam Style and Ben wanted to join in, but was a bit shy so did it sat down!
Day 77
Wriggly Caterpillar Game, a big favourite at the moment!
Day 78
Playing 3D snakes and ladders, which Ben got for Christmas. It is lovely that Ben can now join in with simple games and we have great fun playing snakes and ladders.
Day 79
Cousinly love! Grace kept jumping on Ben and giving him cuddles. Ben found this very funny! Ah, very cute!
Day 80
Megan and Ben both entered a colouring competition that was being run at Mr W's work. They had to colour Sponge-bob Square Pants in and they were both lucky enough to win a Easter egg! Ben was over the moon as he had a Mario egg with mug! Megan got fairies and a mug too.
Day 81
Whilst trampolining is on, Ben has a play in a little room with a couple of mini climbing frames. He usually meets the same little boy in there too so that keeps him entertained for an hour while I keep one eye on him and one eye on Megan trampolining.
Day 82
Lunch time! Ben was pulling funny faces at Grace to try and make her laugh while I was doing her lunch. He is getting very grown up and can be very helpful when the mood takes him!
On Mothers Day I was a very lucky mummy. Ben had planted a little plant at playgroup with a Happy Mothers Day label, Megan had made a painted picture frame at school and a decorated tea pot picture frame at Brownies. I had home made cards and the most beautiful bunch of lillies (my favourite flowers) with pussy willow.
I also had breakfast in bed, bacon buttys and got chocolate! What more could a mum ask for?
Day 70
Ben was having fun with the magic wand! Here he was flapping like a bird!
You can read more about the magic wand in our review
here
.
Day 71
This was the final rose from my lovely bunch of roses I got on Valentines Day. They lasted really well. In fact this rose is still on my kitchen window sill!
Day 72
Mr W made stuffed tomatoes and Greek salad for tea which was delicious. We love Greek food!
Day 73
Megan and I were playing a game in her Lego Friends magazine. Megan and Ben are really into Lego, but Megan has taken a particular liking to Lego Friends, which I really like too.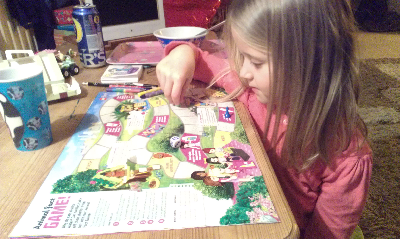 Day 74
Red Nose Day!
Mr W brought home red noses from work and Megan and Ben had a great time trying to get them to stay on their little noses!
Day 75
Out came the train track. Ben and Daddy built it and Megan couldn't resist having a play too.
It is one of the best things we ever got. Ben has spent hours playing with it and Megan likes it too!
Day 62
We had a lovely time at the swimming baths, playing in the rapids and jumping the waves! You can read more about that
here
.
Day 63
I snapped this picture of Ben playing with his pirate ship that Father Christmas brought him. I think this is the longest he has played with it! He spent ages putting the people in the bottom, then 'rescuing' them.
Day 64
I got an early mothers day card off Megan today. My mum is a big cross stitcher and she has been teaching Megan. This star is the first thing she has stitched. What a clever girl, my star!
Day 65
Ben was really enjoying himself,playing in the rain, watering my plants with his water pistol! He was entertaining Grace too, so double bonus!
Day 66
Megan made her First Forgiveness at church tonight. She was a bit nervous but was very grown up. I snapped this after, whilst she still had her medal on.
Day 67
We popped out shopping with Laura and Grace, straight after playgroup, so Ben tucked into sausage roll for his lunch. Yummy!
Day 68
Ben and Grace were in the 'boat', 'driving' to the beach! Ben very kindly let Grace 'drive'. And he gave her a big cuddle and kiss too! Must be love!!!
Day 55
We went to the Camping and Caravan Show at Birmingham NEC. We had a great time looking at the tents, caravans and holiday homes. Perfect day out for campers like us!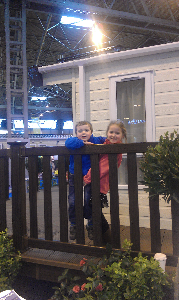 Day 56
Sleeping beauties!
Day 57
Bath time funny faces!
Day 58
Sequin art fun! I think Daddy is enjoying it more than Megan. It is looking lovely and it shouldn't be too long before it is finished.
Day 59
Moon Dough creations. I am quite impressed with the moon dough. I thought it would be like the moon sand, that I hate because it goes everywhere, but this is great. Really pliable, easy to use and moulds well.
Day 60
Megan was delighted as she brought home a kindle from school on a weeks loan. It is preloaded with lots of books and she is so pleased to have it. I have a kobo e reader but this has a better choice of childrens book than I have so is great. We have both been sat there reading our e readers! Shame it is only for a week though as she loves it. We might have to think about getting her one of her own at some point...
Day 61
Megan, Ben and Grace were dancing along to the CD player this morning! I was able to snap this picture of them all. So cute!
Day 49
A bit of bubble fun before bed!
Day 50
Out in the sun at Wythenshawe Park. Bikes, scooters, trees, fun and friends.
Day 51
Ben went down the big slide at the park! It was the first time my heart wasn't in my mouth! He is growing up so fast now. I will be able to sit on the bench this summer, instead of chasing him all around the park!
(And watch Laura chase Grace!!! Sorry Law!)
Day 52
Megan and Ben made soda bread! My budding little bakers! Yummy!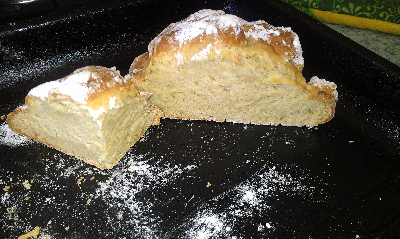 Day 53
Ben checking out our new fish!
Day 54
Look what we bought today! Um Bongo, um bongo, you drink it in the congo...
Brings back memories of my mum buying this for me and my sister when we were younger.
And it's still as lovely!
We had a lazy Sunday. We played with the Thomas trains, did homework, watched telly and just relaxed.
Day 42
Bedtime stories. Ben has a story before bed every night. Megan enjoys sitting and listening too although she has one downstairs too! Bens favourite at the moment is Peppa Pig.
Day 43
Pancake Day! After school, Laura and I took the kids up to church were there is a cafe and we had yummy pancakes. Megan really enjoyed them this year and had lots! Ben less so, but had a couple of the small ones you can buy. Mr W and I also had some for tea, so this year we have all enjoyed our pancakes on pancake day.
Day 44
Ben very kindly share his ice pop with Grace. It won't be long till she wants one of her own!
Day 45
Valentines Day. Look what I received from Mr W!
Megan was very intrigued about her cards and one in particular has kept her guessing!
Day 46
The last of my very yummy Christmas cake has been finished. Not to worry, it's only 8 months till I start the next!
Day 47
Fun at the park! Setting sail for somewhere hot!
We went to Lymm Dam for a lovely wintery walk.
It looks sunny here, but it was really cold! We took the ducks some lunch and tried to avoid the swans!
On Monday, Ben discovered Cbeebies on my mum's laptop and has wanted to be on it ever since!
At the time I wasn't sure why he wanted to wear his hat, he kept saying he was cold! I know know this was because he was coming down with a nasty chest infection, that resulted in a ridiculously high temp and a trip to out of hours on Tuesday night.
Ben has been focusing on 'Room on the Broom' at playgroup and he painted this super cat from the story! I think he had just a tiny bit of help! No matter what he is very proud of it!
I had a poorly boy at home today, who spent the day in his jammies. He is playing with all the Peppa Pig bits here.
Megan was making things for Chinese New Year at Brownies tonight. She made this lovely hat and a lantern. They look great!
It was the Valentine's School Disco tonight. Here are the three giddy kippers before they went in!
We had a lovely time, lots of dancing and jumping, hot dog eating. As part of my PTA role I was supervising and tidying up afterwards. I was having a joke with Jack not to go with any girls into dark corners and certainly no kissing! He didn't find me amusing!
Megan must be going through a growth spurt at the moment! Here, she is sat on the kitchen side munching her way through the contents of my cupboard!
What with the make up and this I feel like she has turned into a teenager 5 years too early!!!
Ben had moon dough from Father Christmas so Megan and Ben had great fun being creative!
The barbies and ponies were getting a good wash!
Megan had her Presentation Mass in preperation for her First Holy Communion. All the children were presented with a special medal to wear at mass. She had a class mass on Tuesday morning so i took a picture of her with her medal before school.
Megan had the topic of The Vikings and this is her long boat that she made at school.
Day 31
Our cat, Jake, was very comfy on the sofa!
Ben, Daddy and I had a game of Hungry Hippos before bed. It is currently one of Ben's favourites, and one of mine too!
We went for a wintery walk in the park.
Note the red nose and cheeks, it was freezing!
I had the morning to myself whilst Ben was in playgroup (a rare luxury!) so i sorted out the bedroom,
tidying and sorting toy boxes under the bed and getting rid of lots of rubbish. Very therapeutic!
Last Sunday we went to the crematorium to visit Nana Betty.
Megan and Ben were playing in the garden and when they came in they lined up their wellies and they just looked very cute!
Megan and Daddy were busy with the Lego.
Wednesdays are always full on as all four of the children are there! Megan was being a super star and feeding Grace her tea while I was sorting the boys out.
Ben and Daddy set up his racing car track that Father Christmas had brought him. Ben thought it was great fun!
We had a sprinkling of snow, but not enough for my liking, so when we got home, Megan and Ben wanted to play out at the front with a few of the local children. As Ben wanted to be at the front too, that meant I had to be out as well and it was freezing and getting dark. They had great fun on sledges, pulling each other and throwing snow balls!
We went to the craft session this morning, but it wasn't on, it doesn't start till next week unfortunately.
Instead we had a walk around the gallery where this caught my eye! (It's a horse and rider!) What do you think?? It gave us a bit of a laugh.
This week has returned to normal with going back to school and work.
Ben has also started five mornings at playgroup, so all change there too.
We started the week with a panto and ended it with a lovely visit with family, so in some ways we have still been in holiday mode!
We went to the panto to see Cinderella, which was great fun.
Day 7
Bathtime funny faces!
Day 8
Sleeping beauty (in my bed!)
Ben, Megan, Jack and Daddy playing Peppa Pigs Giant Snakes and Ladders.
Day 10
Megan with her cousin Olly. Look at that gorgeous hair!
Day 11
Megan trampolining.
Ben and Auntie Sue playing Screwball Scramble.
Keep your eyes open for Week1!
Week 1
Days 1-5
1. Megan looking beautiful on New Years Day.
2. Ben and Jake/
3. Puddle jumping!
4. Looking for rainbows.
5. Climbing trees on the way to the park.