I am taking part in the 365 photo challenge for 2013, linking in with
The Boy And Me
.
I will add pictures each week.
Day 55
We went to the Camping and Caravan Show at Birmingham NEC. We had a great time looking at the tents, caravans and holiday homes. Perfect day out for campers like us!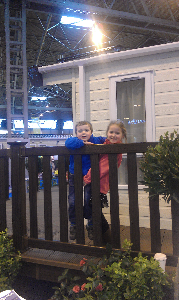 Day 56
Sleeping beauties!
Day 57
Bath time funny faces!
Day 58
Sequin art fun! I think Daddy is enjoying it more than Megan. It is looking lovely and it shouldn't be too long before it is finished.
Day 59
Moon Dough creations. I am quite impressed with the moon dough. I thought it would be like the moon sand, that I hate because it goes everywhere, but this is great. Really pliable, easy to use and moulds well.
Day 60
Megan was delighted as she brought home a kindle from school on a weeks loan. It is preloaded with lots of books and she is so pleased to have it. I have a kobo e reader but this has a better choice of childrens book than I have so is great. We have both been sat there reading our e readers! Shame it is only for a week though as she loves it. We might have to think about getting her one of her own at some point...
Day 61
Megan, Ben and Grace were dancing along to the CD player this morning! I was able to snap this picture of them all. So cute!