I am taking part in the 365 photo challenge for 2013, linking in with
The Boy And Me
.
I will add pictures each week.
For the month of July The Boy and Me suggested using these prompts.
Day 181
We got a trampoline!!! Megan could not be more pleased and both of them have hardly been off it all week!
Day 182
Happiness is......
Happiness is eating fruit salad and watching Scooby Doo whilst cuddling up under a blanket.
Day 183
Shoes
My new boots that I got in the sale and I am saving for the winter. Bargain too, £10!
Day 184
Cold
Today's pic is the opposite of cold as it was so warm at bedtime that Megs was chilling out with her tablet to try and cool down.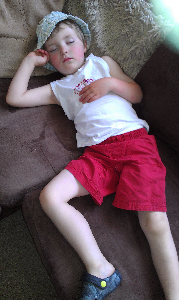 Day 185
Red, white or blue
Totally worn out after being up coughing a lot in the night, so having 40 winks
Day 186
Love
Sibling love...need I say more.
Day 187
Favourite smell
One of my favourite smells is a BBQ. It brings back memories of a hot, summer, childhood.