One of our favourite companies,
Learning Resources
sent us Play Foam to review. The Play Foam comes in this pack of eight bright colours, which all have very appealing names.
When it arrived, the first thing Mr W said was, "That looks messy!" I pointed out that the packaging said NO MESS, but he wasn't convinced, and to be honest neither was I!
This is what Learning Resources say about Play Foam.
Playfoam may have a new look, but rest assured the product inside still offers the same mess-free creative play fun!
Children simply shape it into anything in their imagination before squashing it down and starting all over again.
PlayFoam is completely mess free, it does not stick to hands, clothes or carpet. It never dries out, use it straight from the box for creative play on the go. The bead-like structure promotes sensory perception and fine motors skill development and the vibrant colours can be mixed to create multicoloured shades. Best of all, its non-toxic formula offers safe creative play for youngsters.
Includes original and sparkle pods in eight vibrant colours.
You can check it out
here
.
Megan and Ben were very eager to open it, but I persuaded them to wait till the weekend, at the thought of all the impending mess!
Sunday morning arrived, and bright and early (note the PJ's in the pictures) we were ready to open!
The bright, colourful pack.
I carefully opened the pack as I wasn't sure if it was going to explode out everywhere! It didn't and amazingly all the foam stayed in place!
Megan thought it felt' "really weird", and it did! Squidgy and squashy and pliable and pleasantly unmessy!
Megan began by making herself some ear rings! Very glamourous.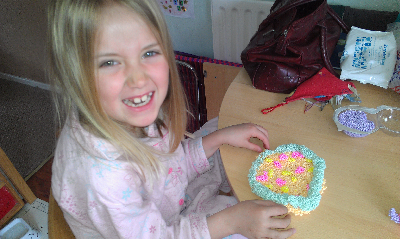 Pizza was next on the menu and it looked delicious.
Ben made his own version of pizza too! And then we decided to make some different animals.
Ben made two worms!
My fab cat!
Megan making a cat too!
Our completed zoo - cats, worms, snails and fish!














After we had finished playing there was no mess anywhere! The brilliance of Play Foam is that you can make and play with NO MESS. Mr W was suitably amazed too. Another bonus was that the play foam doesn't dry out and can be reused again and again. I put it away and a couple of days later it feels exactly the same!
I would definitely recommend that you look into this for your little ones, especially anyone who breaks out in a cold sweat at the thought of 'crafty activities!'
Learning Resources are running a competition on
Facebook
for you to win your own set of Play Foam!
Head over
here
and enter. The competition closes on
Friday 7th June 2013
.